LATEST NEWS:


NOW AVAILABLE:

"Preservation Edition" Collection Includes:
•Documentary Feature (92 mins)
"Oyster Farming in a Changing World"

•7-Episode Documentary Series
"Willapa Bay Oysters" (over 5 1/2 hrs)
Industry Overview, Growers Stories, Hatcheries, Seed, Planting, Cultivating, Harvesting & Processing.

•Documentary Shorts
"Importing Japanese Seed"
"Catching a Natural Set"
"Oyster Dredging Underwater"
"Working with Family"
"A Filmmaker's Journey"
"Oysterfest Celebration & Speed Shucking"

•Music Video (original song)
"This is Where I Belong"

•Environmental Videos
•Raw Oystering Videos
•Profile Interviews
And MORE...

---


Want to save on Shipping Costs...
The "Preservation Edition" Collection is available at the following Locations:

SOUTH BEND PHARMACY
101 Willapa Avenue
South Bend, WA 98586
(360) 875-5757
---

DID YOU MISS THIS EVENT?

In addition to the 7-episode documentary series "Willapa Bay Oysters," the feature presentation "Oyster Farming in a Changing World" is available for viewing! The previous incarnation of the feature, then known as "History and the Oysters," had a wonderful and successful "World Premiere" at the Raymond Theatre (Raymond, WA).

Read about the event - two great articles (click on image "Harbor Herald" and link "Chinook Observer" below):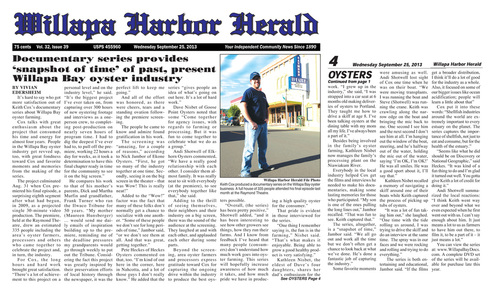 ---

---